The Synaptics Gesture Suite enables a variety of useful features for supported laptop touchpads. My favourite is 'ChiralScroll', which allows you to scroll by making a circular motion on the touchpad. Synaptics actually offers generic drivers on their website now, so you can download them directly without needing to go via the usual websites.
Unfortunately, the cursor used for ChiralScroll leaves a lot to be desired:

At the very minimum, it doesn't mesh well with the cursors found in the Windows Aero theme. I decided this would be a better cursor:

I'm misappropriating the 'Move' cursor here (a separate metaphor), but I think the image fits with scrolling to some extent. Let me know if you can come up with a better alternative.
Read on for instructions on replacing the cursor.
The Synaptics resources are installed to %ProgramFiles%SynapticsSynTP by default. There are no .cur files in that directory, however: the resources are embedded in SynTPEnh.exe. This means that we need to use a resource editor. My recommendation is the open source, .NET-based Anolis Resourcer. If we use Anolis to open SynTPEnh.exe, we can see the embedded cursors: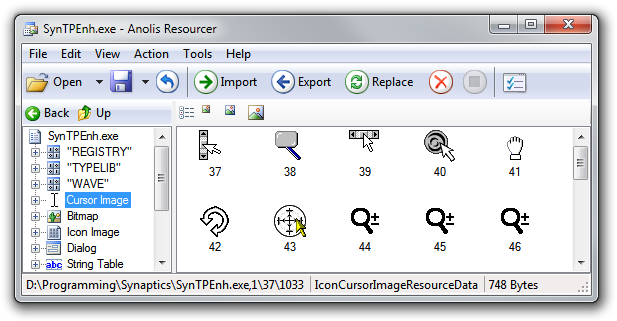 We want to replace the cursor at position 40. I had some trouble directly replacing the cursor with a PNG or .cur file in Anolis, but managed to do it with another (non-free) program. To save you the trouble, I've exported the raw resource data from Anolis, which can conveniently be imported by Anolis:
scrollcursor.bin
4,268 bytes; SHA-1: 0D193243F0FD13D29D765BDA7C704B8053475B25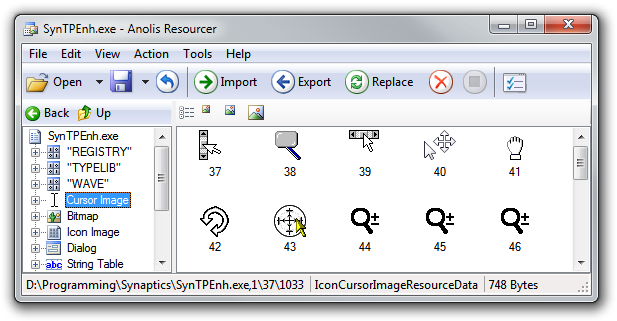 I take no responsibility if doing this somehow breaks your system. Make sure you keep a backup of SynTPEnh.exe in case something goes wrong.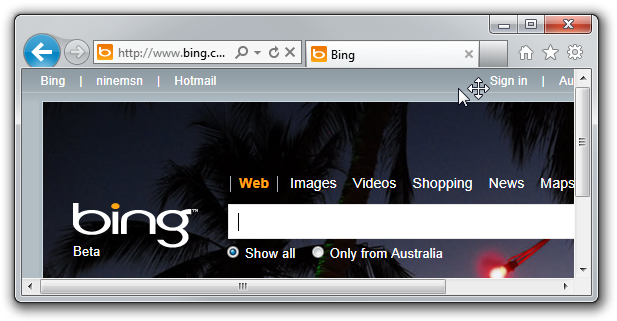 Enjoy your updated cursor. Note that Synaptics doesn't respect the 'Enable pointer shadow' option in Windows. For this reason, I've included a shadow in the image itself (but not for the 'move' cursor part, as the shadow doesn't fit in 32x32px).